The Outstanding Tattoo Artists
Of Red Ink Tattoos Give 100%!
The Tattoo Artists of Red Ink Tattoos
When you think of tattoo artists, what comes to mind? Whatever you conjure up, one thing is for certain, tattoo artistry is not for everyone; it takes courage, creativity, and a certain level of skill that only comes with years of experience.
There are many steps involved in becoming a tattoo artist; choosing your tattoo design, learning how to tattoo properly through a mentor or teacher, finding clients, and each aspect takes time and patience.
The tattoo artists at Red Ink Tattoos have paid the price to be able to serve you with a level of excellence that is second to none. These are our remarkable tattoo artists, let's talk!
Zeke Branson
- Tattooist -
Ceasar Romano
- Tattooist -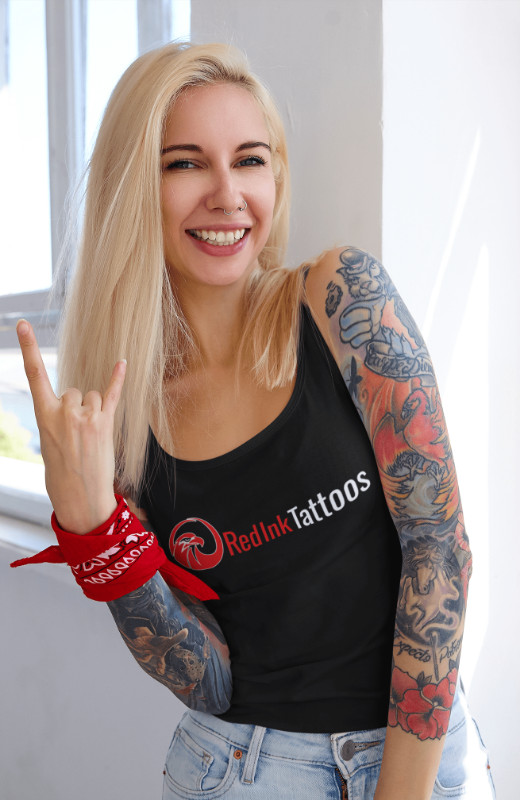 Enjoy Our Outstanding Customer Service Experience
Our Customer Service Experience is one of the most important parts of our existence. The reason we get so many return guests and tons of word-of-mouth referrals is because of how we treat people.
First of all, you are not our, "Customer."
You are our, "Guests!"
And not just any type of Guest, you are our "Guests of Honor!"
You hold an esteemed position with us; one that demands that we treat you with the utmost respect, kindness, courtesy, and dignity.
You can rest assured that when you walk into the tattoo parlor of Red Ink Tattoos, we exist to serve you.
Our excellent customer service is the way we do business; it has become a key factor as to why we will eventually become a landmark. To further help you understand our operating "Q" you need to understand what we pledge.
To go above and beyond the call of duty for every Guest who walks through your doors, online or offline! Guest service is about more than just having great tattoo designs and providing excellent Guest service.
– Guest service encompasses the entire experience, which includes things like how our artists interact with Guests and uphold standards of quality in every aspect of the business – from consultations to tattoo design, to getting inked or pierced.
– Guest service is what sets us apart! It gives Red Ink Tattoos a tremendous edge over our competition.
– To remain committed to our goal of becoming the world's greatest Tattoo Parlor. We don't aspire to this goal for bragging rights, we hold to these aspirations to show the tattoo industry and the world what true Guest service looks like.
– To set the standard for excellence, to the extent and degree that others follow our lead and become just as successful as we are.
– To make sure that all of our artists and piercers enjoy coming to work at Red Ink Tattoos. We believe that everyone is family and creating and maintaining a family environment.
– To become a conduit of success. We refer to this as our "Q" factor. We strive for our "Q" factor to invigorate and supercharge YOU to success.
– To always do our best to make sure that all of the work we produce is done with care and precision.
– To inspire you to become a lifetime Guest who will recommend Red Ink Tattoos to their family and friends because of their great experience.
– To inspire others to be the best that they can be at all times in all situations and in all encounters.